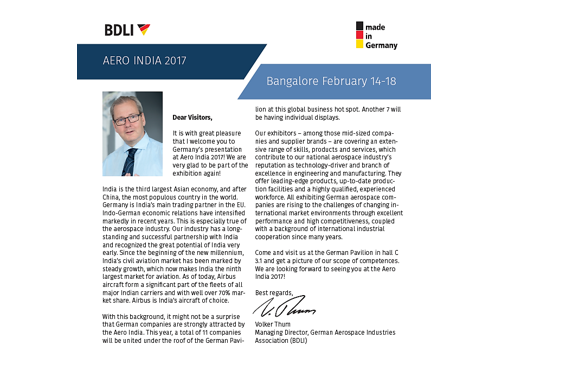 Thrust and Lift for India's Growth Market
Berlin, February 14, 2017 - At the start of Aero India Air Show, BDLI (German Aerospace Industries Association) managing director Volker Thum emphasizes India's great importance for the German aerospace industry: "India is a major market for our industry with great prospects: in 20 years, almost every second aircraft order will come from the Asia-Pacific Region, mainly from India and China.

In India alone, 200 new airports will be built over the next few years to meet rising air traffic. And by 2034, over 1,600 new aircraft will be put into service, of which more than 75% will be single-aisle aircraft.

Airbus manages its program of medium-haul A320 aircraft from Hamburg. But it's not only this most successful Airbus program, but also our German aviation industry that gives India a lot of thrust and lift thanks to competitive products and the outstanding technological know-how of our companies – both OEMs and our medium-sized suppliers. And it's this capability that we will be presenting at the German Pavilion in Hall C 3.1 at the Aero India Air Show."