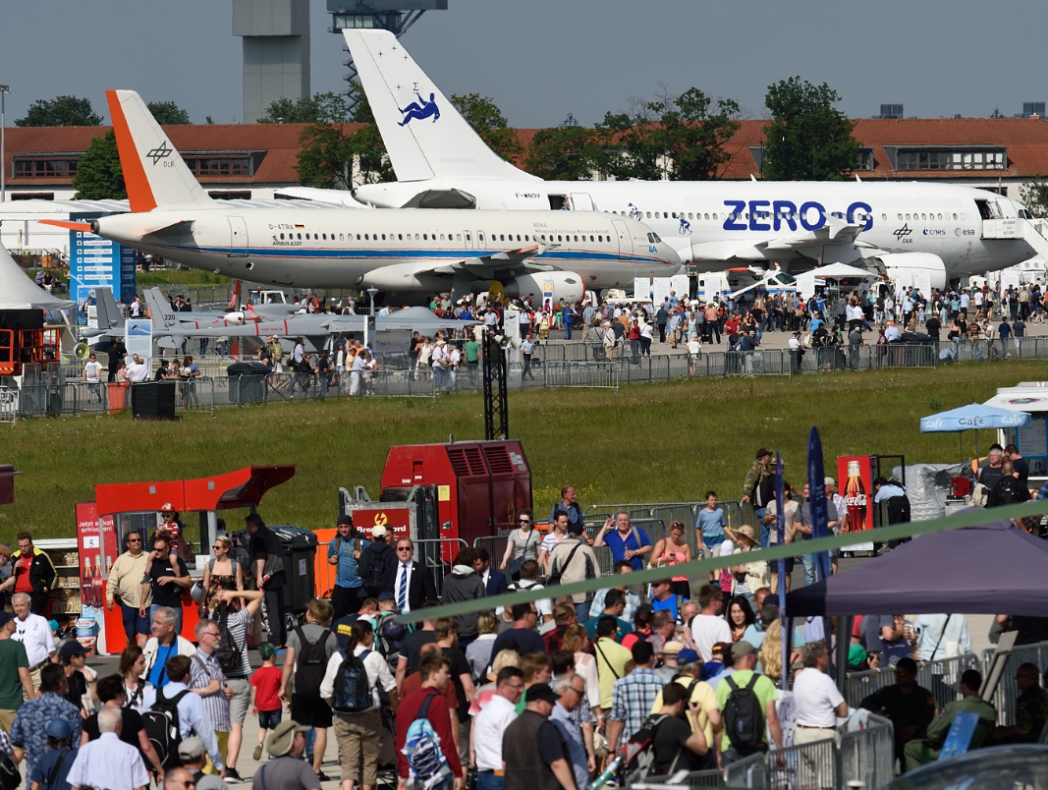 New ILA Berlin concept attracts great interest
With the early booking phase now completed, the organisers of ILA Berlin are able to give a very positive assessment: barely six months before this leading international event opens early bookings for the exhibition and conference are at record levels.
Volker Thum, managing director of the BDLI, was delighted with the positive trend: "Today we can already say that ILA 2018 will provide a boost for the entire aerospace industry. The new concept of ILA Berlin as a marketing platform for innovation and new technology is successfully targeting established key players as well as new and highly innovative companies. ILA Berlin, which is synonymous with and a driving force of innovation and leadership in aerospace, is attracting great interest at national and international level."
ILA Berlin addresses important topics that are unique selling points, Thum added, "among them environmentally friendly flight, UAVs, NewSpace, material research and Industry 4.0 – no other trade fair gathers so many experts, members of industry and decision-makers representing politics, science, research and the military under one roof. ILA Berlin is where the industry's leaders debate tomorrow's key issues".
From 25 to 29 April 2018 Berlin will be the global platform for the world's aerospace industry. More than 1,000 exhibitors ranging from major corporations to highly specialised suppliers and users will showcase their expertise in areas such as civil aviation, defence, security and space flight at this event in the heart of Europe. The space flight displays under a single roof highlighting the benefits of space travel are a successful concept and an increasingly attractive selling point of ILA.
First-time exhibitors at ILA Berlin 2018 include Kawasaki from Japan, the Israeli aerospace companies Elbit Systems Ltd. und IAI – Israel Aerospace Industries Ltd. and Kongsberg Defence & Aerospace AS from Norway. International representatives making their first appearance include the EU Commission and CleanSky.
As in recent years the number of Russian exhibitors is high. ROSCOSMOS, Russian Export Center JSC and Eurasian Partnership of Aerospace Clusters (EPAC) are among those taking part.
Be they manufacturers of passenger aircraft, turbines or helicopters, suppliers of propulsion systems or designers of launch vehicles – numerous leading players from the national and international aerospace industry have again registered to exhibit at ILA Berlin in 2018. Taking part are market leaders such as Airbus, Boeing, Lockheed Martin Corporation, Lufthansa Technik AG, MTU Aero Engines AG, Rolls-Royce, Liebherr-Aerospace & Transportation SAS, RUAG Aviation and Saab International Deutschland GmbH.
Key display sections at ILA 2018 include Aviation, Space, Defense & Security and Suppliers, featuring the International Supplier Center (ISC). Addressing a cross-section of themes will be the Special Features displays of the ILA Future Lab, UAV Base, ILA HeliLounge and the ILA CareerCenter.
The Bundeswehr will also be represented on a combined stand in Hall 3. In association with the Federal Ministry of Defence (BMVg) and industry partners, including Airbus Defence & Space, Airbus Helicopters, Diehl Aerospace, Autoflug and Rohde & Schwarz, it will be examining 'The Future of Partnerships'. The Bundeswehr will also be displaying large exhibits such as the Eurofighter and NH90.
Covering an area of 4,000 square metres, the world's largest theme-focused aerospace exhibition awaits visitors to the event. It is also where the international space flight community will be gathered. Under the 2018 heading of 'Space for Earth', the Space Pavilion is co-organised by the German Aerospace Centre (DLR), the Federal Ministry of Economics (BMWi), the European Space Agency (ESA) and the German aerospace industry.
Parallel with the show an outstanding programme of conference events with leading figures from politics, industry and science will address current topics and the future challenges facing the aerospace industry. Topics will include Industry 4.0, additive manufacturing/3D printing, alternative fuels, and material research under the heading of 'Plastics meet Aviation'. Among other attractions at ILA Berlin will be a wide range of matchmaking and networking events Berlin offering international industry members an opportunity to meet and network..
This press release can also be found on the internet: www.ila-berlin.com