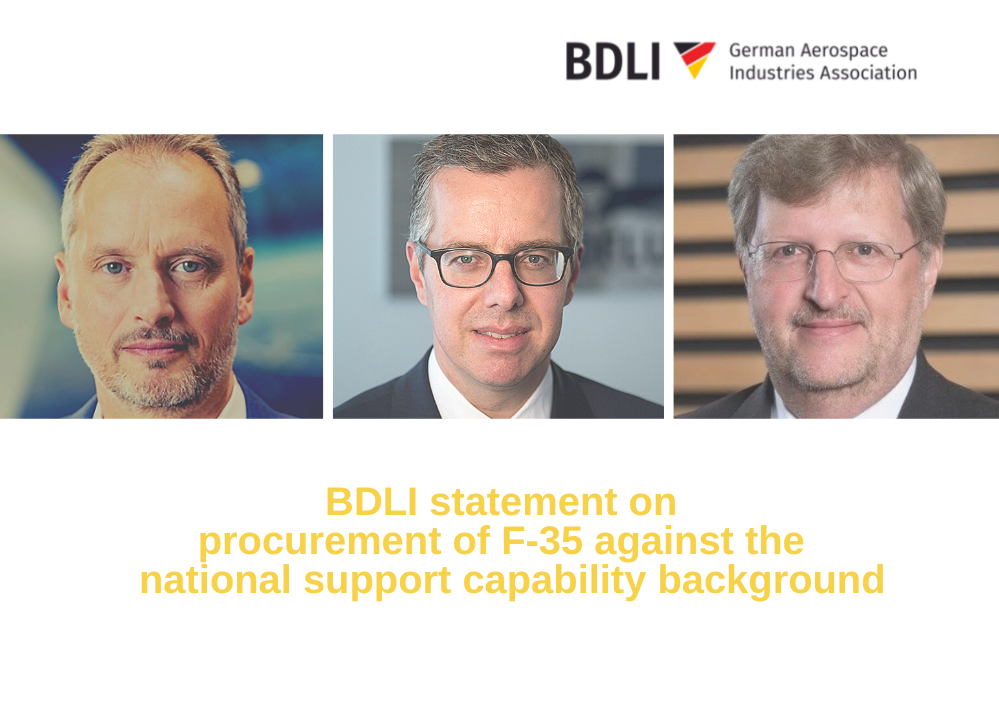 BDLI STATEMENT On the procurement of F-35s against the background of national support capability.
With the upcoming parliamentary consideration of the €25 million proposal, the procurement of the aircraft is now entering implementation.
For the German aerospace industry, the task now is to build on its customary partnership with the German Air Force, the Ministry of Defense and the Federal Office of Bundeswehr Equipment, Information Technology and In-Service Support (BAAINw) and to support the German customer as best it can in operating the new weapon systems.
The German Air Force and the German aerospace industry have a proven track record of cooperation. The companies work closely with the Air Force, both in the maintenance and repair of complex weapon systems and in support at the component level, in some cases even side by side in fully integrated teams.
BDLI president Dr. Schoellhorn emphasizes: "The German Air Force and the German aerospace industry can look back on a long-standing joint success story. As part of this collaboration, we have both supported U.S. platforms such as the F4 and F-104G and developed our own European solutions such as the Tornado and Eurofighter, whose operation we can now ensure with consistently high availability. In the future, we want to continue to do our part as a close partner alongside the German Air Force."
"We are all pursuing the same objective," emphasizes Martin Kroell, BDLI SME representative and member of the BDLI board: "providing deployable material to soldiers, with the goal of ensuring fleet availability at a consistently high level."
"Once the contract is finalized, we will enter into direct discussions with the U.S. manufacturer to offer the German Air Force access to proven national support capabilities in the medium term. This will enable us to meet this joint goal in the best possible way," adds Dr. Gerardo Walle, BDLI vice president for equipment and materials.