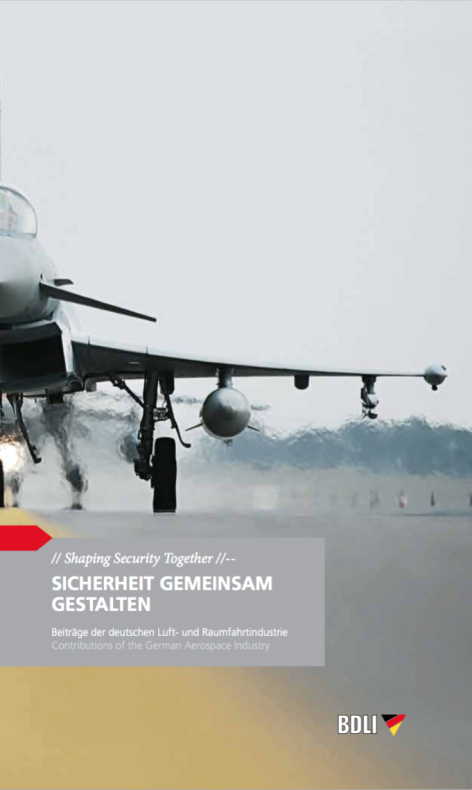 Shaping Security Together
The year 1955 marked the birth of aviation in Germany. Lufthansa was in the air again. The now sovereign Federal Republic became a member of NATO one day after the form- ation of the Bundeswehr. The Air Force was established shortly after in November 1955. The importance attributed to aerial systems was comparatively low when the Bundeswehr was set up. This was set to change radically
in the ensuing 60 years.
Aerial weapon systems are now hugely relevant to Germany's security policy. Together with our allies, our armed forces must be able to operate in an increasingly complex international environment and in a variety of situations. The military aviation industry contributes significantly to the operational capability and readiness of every aerial weapon system and has proved a reliable, indispensable, and strategic partner to the Bundeswehr for decades. The systems our industry place at the disposal of the Bundeswehr for
the required capability profile are state-of-the-art, more powerful than any other, and in some instances quite unique globally. This means that it represents more than just being a pillar safeguarding Germany's interests and an internationally sought-after, respected, and competitive partner. Fundamental importance is attributed to it in connection with Germany's capability both to contribute and in terms of the Alliance. It is an indispensable asset in terms of our country's foreign and security policies.
More than 22,000 directly employed and highly qualified staff members of some 100 companies – both system manufacturers and predominantly medium-sized suppliers – deliver this performance. Combat and transport aircraft, aero-engines, satellites, helicopters, unmanned aerial vehicles, missile systems, sensors, armament and equipment ranging from landing gear to flight control computers are just some of the globally renowned products developed and manufactured in Germany. At the same time, the scope of this industry segment goes far beyond the military. Founded upon cutting-edge technology, its system capability makes it a powerful engine for innovation and growth with positive spillover effects in many other economic sectors.
Evolved over six decades, the partnership between Federal Government, Bundeswehr, and industry makes for an excellent foundation. Only with a permanently established, powerful, and efficient military aviation industry will the Federal Republic of Germany be able to continue fulfilling its responsibilities vis-à-vis security, the Alliance, and economic policy in the future, too. Based on the military aviation strategy, our industry seeks the necessary long-term planning certainty and orientation with the aim of jointly facing and addressing effectively the challenges of tomorrow.
Bernhard Gerwert
President of the German Aerospace Industries Association