On the way to electric flight – 3D printing for cool batteries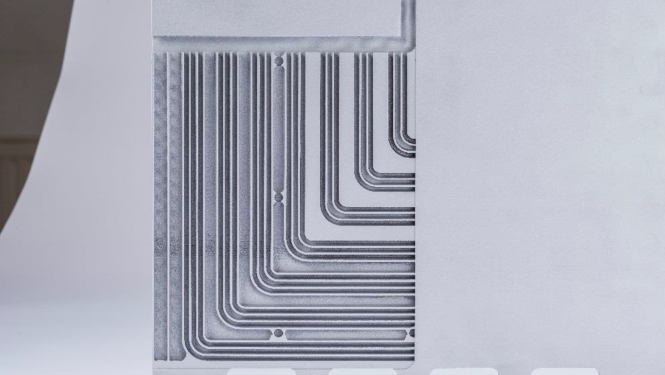 The battery in the currently planned electric aircraft heats up to 85 °C (185 °F) – heat that has to be discharged and cooled to prevent the battery from overheating. APWORKS has developed an innovative cooling plate that takes over this task. The plate is a good half a meter wide and three quarters of a meter high. It contains a labyrinth of channels a few millimeters thin, in which heated coolant is transported and cooled by means of a heat exchanger.
Additive manufacturing as game changer
The idea itself is not entirely new. Similar cooling plates are used, for example, in computer centers or in large generators. But the cooling plates developed by APWORKS are manufactured using 3D printing and are particularly suitable for e-flight – the process creates channels that can be arranged in a completely flexible manner compared to conventional cooling plates and can thus discharge significantly more heat. This increase in efficiency is absolutely essential for the enormous energy requirements in aircraft.
The second major advantage, which is decisive for success in e-flight in particular, concerns weight. The innovative plates are a good 20 percent lighter, thanks to 3D-printing technology; the entire channel system including cavities can be created in one go. With conventional methods such as milling, individual units must be produced, which then have to be welded and sealed, resulting in a high weight. What's more, components that are produced in just one production step require less time-consuming quality testing – saving considerable cost.
Another building block for e-flight
The new cooling plates have already proven themselves in test flights with smaller electric aircraft. They are an important component in ensuring that passenger aircraft can one day take off fully or partly electrically and ensure a better climate footprint for air traffic.
APWORKS works closely with its parent company Premium Aerotec on development and testing. The technologies are used in Airbus' E-Aircraft Systems division – and also secure European expertise in terms of additive manufacturing.