Three in one – for leaner production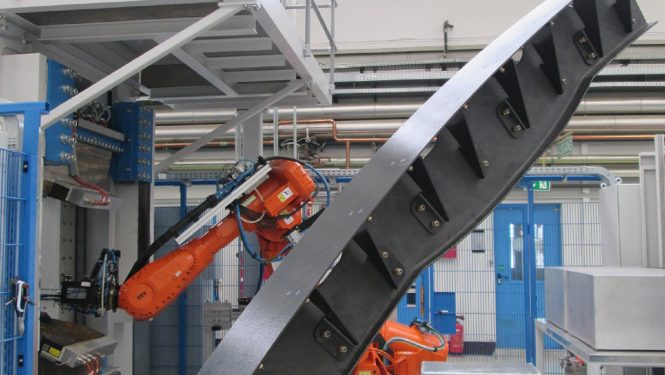 For decades, the European and American aviation industries have dominated worldwide aircraft construction. Stars like the Airbus A320 or the Boeing 777 characterize modern air traffic. However, new competitors are now entering the market. China's Comac and Russia's Irkut want to deliver their own aircraft with more than 150 seats by 2021 at the latest. The German aviation industry accepts the challenge. See Premium AEROTEC: the component manufacturer is working at a great pace to be able to produce the components of the future more efficiently and cost-effectively – and thus keep well out in front of the competition.
New process with significant advantages
One example is the so-called ribs. They form the skeleton of an airplane, so to speak. Like the bones in the human body, they ensure that the aircraft remains stable – regardless of the stresses it is exposed to during takeoff, landing or flight. In an Airbus A350, for example, around 100 ribs extend from the cockpit to the end of the aircraft, spanning a fuselage over 70 meters long. The ribs run all around the body of the plane, similar to ribs in a human body.
Today, the ribs are attached to the aircraft skin with a kind of L-angle, the clip. Currently these clips are made of special carbon-fiber-reinforced plastics (CFRP). CFRP is lighter than metal and this special thermoplastic variant can also be processed quickly and cost-effectively. So far, each clip is fastened individually to the ribs by rivets. In Bremen, Premium AEROTEC has now developed a new process for manufacturing ribs from this material as well. Thus, it is possible to integrate the clips directly into rib production. Several components become one, assembly times are reduced and the process is made more efficient.
Costs are halved
In the long term, Premium AEROTEC wants to integrate yet another element into the ribs, the so-called Stabilo. This supports the ribs in the direction of flight, prevents tilting and ensures that the structure of the aircraft remains stable, even when exposed to extreme forces – such as during takeoff or landing. So far, the Stabilo has also been made of thermoplastic CFRP and attached separately to the ribs. By combining the three elements – rib, clip and Stabilo – into one component, the new process halves the manufacturing and assembly costs compared to today's construction method.
The first airworthy components will be available in around two years. The new three-in-one component will be tested on the A350, but the process might be applied to the integral ribs of all aircraft models.
The company has been developing the process since 2018 along with four partners, including two Fraunhofer Institutes. Premium AEROTEC's Hamburg location is also involved alongside Bremen. Through cooperation and networking with its partners, the company is expanding its own know-how in the field of fiber composites, thus consolidating Germany's pioneering role in the aviation industry.