The spare parts warehouse of the future – automated and digital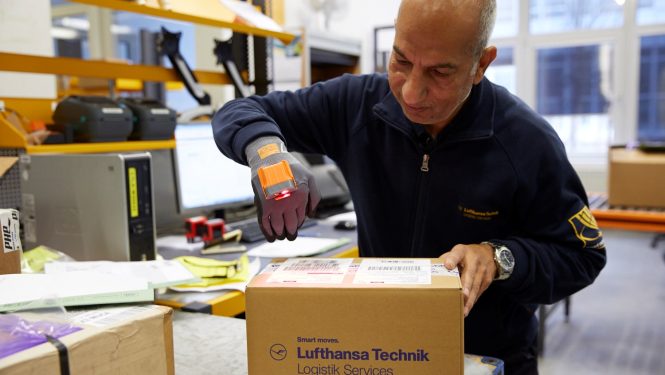 Lufthansa Technik Logistik Services (LTLS) is examining to what extent digital technologies can reduce costs and facilitate the work of employees in all areas of the warehouse: From receipt of the goods to their delivery to the aeronautical engineer at the aircraft. See Receipt of Goods: LTLS collects a wide range of data from more than 10,000 documents every day. Reading the data, checking and entering them into one's own databases is very time-consuming and error-prone. But not for long: Starting in mid-2018, the input forms will be filled automatically. This is made possible by a document analysis system with optical character recognition supplemented by an intelligent content analysis based on IBM Watson.
Even more transparency in the Digital Warehouse
The maximally efficient data collection is literally the first step. Next, LTLS aims to maximize the use of space. This sounds more banal than it is in an aircraft maintenance company: Large and bulky aircraft spare parts take up a lot of space and often have to be relocated. Thanks to a specially developed localization platform, large components in storage can be located automatically without booking and thus with significantly less effort. This also contributes to the transparency of the warehouse. Following a successful pilot project in Munich, the transferability to other locations will be examined.
Transport made easy
Given the sheer size of the warehouse, the employees have to walk considerable distances – which is time-consuming and expensive. As far as technically possible, LTLS relies on automation. Since December 2017, the mobile and flexible autonomous transport system has been transporting the aircraft parts directly to the employee's workplace.
Wearable scanners
Once employees have received the goods, they will be able to use digital assistants. LTLS is currently testing a smart data glove with an integrated 2D scanner. Employees no longer have to hold their mobile scanners in their hands, and the time-consuming input of data is no longer necessary. The company is now planning a further development that includes an integrated display, the pilot applications for which are to be launched as early as the first half of 2018.
Smart and digital applications made in Germany significantly strengthen Germany as an aviation center. This requires innovative team players. That's why LTLS relies on cooperation with modern start-ups to benefit from new ways of thinking and from uncomplicated, flexible approaches.