Shortening the COVID recovery with cabin light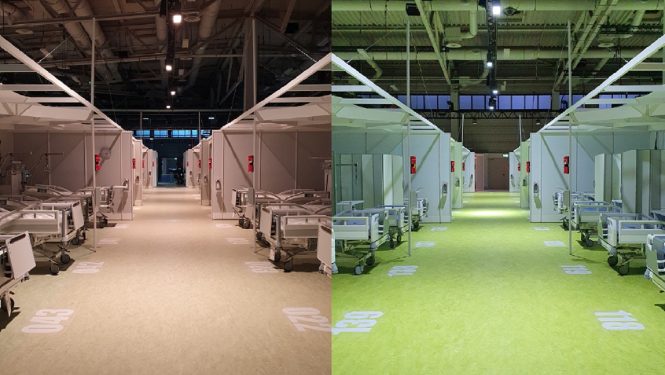 For this purpose, a lighting control solution developed by jetlite is put to use. The key element is that the technology generates various lighting scenarios that simulate different times of day, called chronobiologically effective lighting. Warm light, for example, encourages relaxation, while cooler light activates the body. This improves the well-being of the patients and shortens their recovery time.
The effectiveness of the lighting scenarios has been proven in studies conducted by the LMU Munich and the Charité Berlin, among others. The lighting system has also been in use in a clinic for psychotherapy and psychosomatics in Gracht since 2019 in the treatment of patients with stress-related illnesses.
Spill-over from aviation
The origin of the innovation lies in aviation. Over the past three years, jetlite has been developing the concept in order to reduce jet lag in connection with long-haul flights. Various lighting scenarios help to prepare the body's internal clock for the new time on landing. For example, for an evening departure, after boarding, a dinner scenario with dimmed lights is initiated. This is followed by a shortened sleep setting in which passengers can get optimal rest. Before passengers deplane, they are quickly prepared for wakefulness again thanks to a daytime scenario with bright, activating light.
This helps to reduce jet lag by up to three hours. Travelers are more rested upon arrival and adjust to the new time zone more quickly. In 2020, jetlite added the Cabin X system to the innovation. Whereas before the scenarios had to be set manually, an algorithm now calculates the optimum lighting – depending, for example, on flight duration, direction of travel and time difference between departure and arrival destinations.
Well-invested start-up aid
jetlite is a prime example of how government start-up funding works.
Founded as a small company about three years ago, today jetlite's innovative lighting technology is being used in several industries. In addition to aviation and health care, the lighting control solution is also in use in the automotive and cruise industries. It may be possible to use chronobiologically effective lighting in office buildings or factory halls without direct daylight as well, so that employees feel more comfortable and their health is fortified.