Pocket-sized security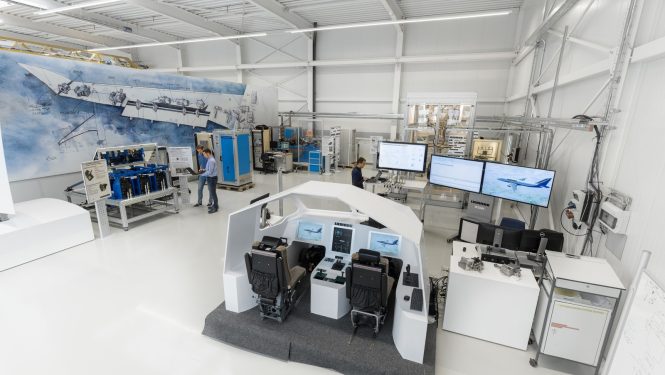 The company is currently providing evidence that the idea is feasible, using what is called a high-lift system. The term refers to the motor-powered flaps that extend and retract at the trailing and leading edges of the wings during takeoff and landing – a fully mechanical system. The associated backup system has also been entirely mechanical to date. For example, if the shaft system in the wing that operates the flaps jams, the shaft could break, because the motor would continue to drive them. The flap at the edge of the wing would then be loose – a highly dangerous scenario that is prevented by mechanical safety devices: brakes.
The smart alternative
Liebherr-Aerospace's contact-free sensor – which continuously measures the shaft's torque – eliminates the need for a mechanical backup system. In the event of the blockage described above, the sensor reports this to the motor, which stops immediately, preventing the shaft from breaking. While devices of considerable weight have been needed so far, in turn requiring a correspondingly dimensioned structure, in the future a sensor just a few centimeters wide will suffice.
Benefits for maintenance
The new type of sensor also opens up new options for maintenance. This bring us to health monitoring: the system detects the condition of the high-lift system while the aircraft is still in flight – and reports any abnormalities to the ground units, where preparations can be made to perform a check and any necessary repairs.
Liebherr-Aerospace was supported by the Kempten University of Applied Sciences in the development of the sensors. The first prototypes are already in the air. However, it will be a few years before sensor technology completely replaces existing security systems. The major obstacle is that the revolutionary technology can only unfold its full potential as part of a new wing design, which is currently being developed. After that, the sensors will make aircraft lighter and even safer.