One-stop satellite mission services: The software comes from NRW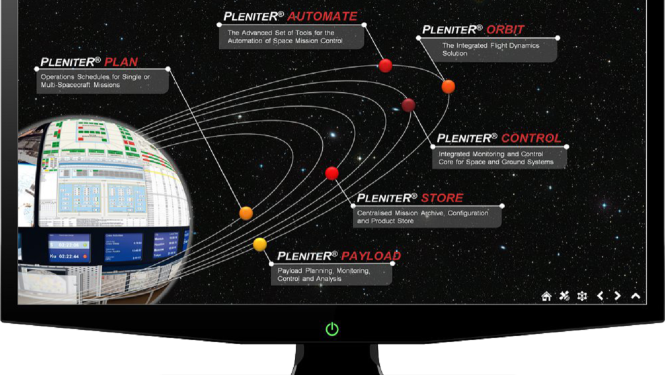 The range of requirements for operating a satellite mission is broad. Tasks and events are carefully prepared and planned, payloads aboard the satellite have to be controlled, the data must be processed and stored and the satellites must be coordinated in space. In addition, the entire system – on the ground and in space – is monitored.
Jack-of-all-trades for satellite missions
For these and many other tasks, the SCISYS software called PLENITER offers proven state-of-the-art technology that can be flexibly adapted to the requirements of a mission. The software suite consists of six individually combinable modules. Routine tasks are automated by implementing cutting-edge technologies. This noticeably relieves the highly qualified operators in the control center and allows them to concentrate on much more demanding tasks. PLENITER can be perfectly adapted to specific requirements and is also able to grow with future mission challenges. Thanks to various interfaces, PLENITER modules can be integrated into existing infrastructures and adapted to the missions carried out there – whether satellite communication, earth observation or research missions.
The know-how acquired in daily operations is also retained long term, because the software stores all data for mission operations in an archive. These data are permanently available and can be used for status reports and for planning and preparing future activities.
Used for better communication and a lunar mission
PLENITER already supports pioneering space missions today. In the control center of the German satellite communications mission Heinrich Hertz, SCISYS will implement a state-of-the-art and efficient operating concept for the entire ground segment based on PLENITER. SCISYS also provides a mission-planning solution for the planned mega-constellation of several hundred communication satellites for the OneWeb communications mission, the aim of which is to provide all people in the world with access to communication and therefore to knowledge. SCISYS has been a partner in the private lunar mission of the Berlin company PTScientists since 2016. The mission – which is also supported by Audi and Vodafone – aims to explore the moon with the aid of a lander and two rovers in a very specific area and carry out some experiments. SCISYS supplies PLENITER technology for monitoring and controlling the space segment and for real-time control of the two rovers on the moon via remote operation from Earth.
As a leading German system house for space control centers, SCISYS combines proven cutting-edge aerospace technology with the challenges of digital transformation. With its innovative solutions, the company focuses on future technologies – such as individual automation concepts for efficient mission operations and intelligent, scalable systems that pave the way for completely new services and applications in the dynamic aerospace market, with transfer potential for other industries.