Next leap towards lighter aircraft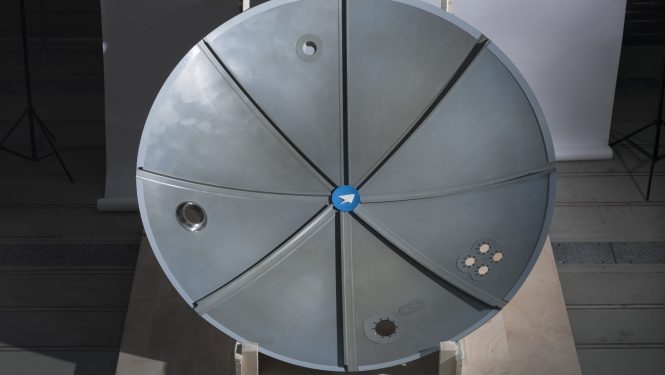 We are talking about the so-called pressure bulkhead. In an aircraft, this circular disk provides an airtight seal that seals off the passenger area from the tail. Only then can the correct air pressure be generated on board.
First demonstrator worldwide
Premium AEROTEC now takes thermoplastic CFRP a step further. In just four months, teams in Bremen and Augsburg have developed the world's first pressure bulkhead demonstrator fully fabricated from thermoplastic for the A320. The full scale demonstrator was unveiled to the public for the first time at the ILA Berlin in April 2018. The demonstrator consists of eight equally sized segments – their shape being reminiscent of pieces of a pie. The segments are joined together using state-of-the-art welding technology.
In partnership for less weight
Several partners were involved in the development and production of the demonstrator. Premium AEROTEC was responsible for development work and design. The individual segments were manufactured at the Institute for Composite Materials (IVW) in Kaiserslautern, and the welding was done in close cooperation with the DLR Center for Lightweight Production Technology in Augsburg.
With the demonstrator, Premium AEROTEC shows that it is possible to produce even large components with lightweight thermoplastic CFRP materials. The potential is enormous: the innovative lightweight version of the A320 pressure bulkhead enables a reduction in weight of around 25 percent compared to today's standard design – without reducing the strength of the component.
In the coming months, the company will gather further insights into what is technologically sensible and economically efficient in designing such large components made of thermoplastic CFRP and drive forward the necessary production processes.