Modern aircraft production: Of rivets and transport robots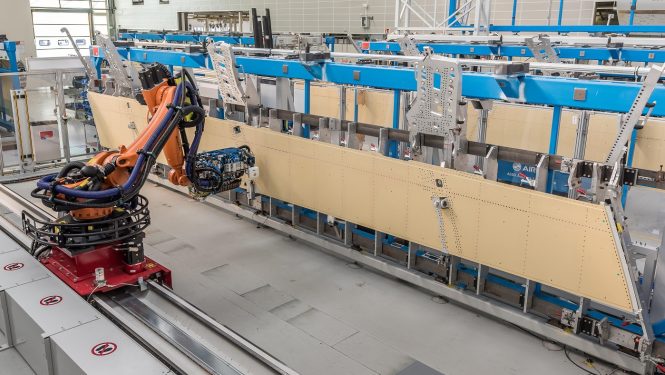 Drilling robot accelerates and improves production
Airbus manufactures the landing flaps of the worldwide bestsellers A330 and A350 in Bremen. Correspondingly, the volume of work for the new colleague is huge: the stationary robot drills up to 5,000 rivet holes per day. And it gets better: in the future, an electromagnetic spindle will be used that drills more finely with alternating feed movements than was possible with previous manual and semi-automated processes. The unwanted drilling chips that occur in the process are such small particles that they can be completely extracted by suction.
And it goes fast, too: the fully automated process reduces the machining time for titanium components by about half. In addition, the new drilling technology generates less heat. The consequence: tools wear less and the material used is less stressed. The maintenance effort for the electromagnetic spindle is practically zero.
Autonomous transport robot in operation
In addition to the new drilling robot, Airbus in Bremen is now also using an autonomous transport robot. It supplies the workers at the landing flaps with small tools and consumable parts in every situation. And thanks to a navigation system, Airbus Bremen gave it complete freedom of movement in the production hall.
Just the beginning
The innovative drilling technology was funded by the German government as part of the Eitec aviation research project and worked on as part of an R&T project at Airbus. Following its successful deployment in Bremen, the technology will also be used at other Airbus locations and for other aircraft parts in the future.