Knowing what comes next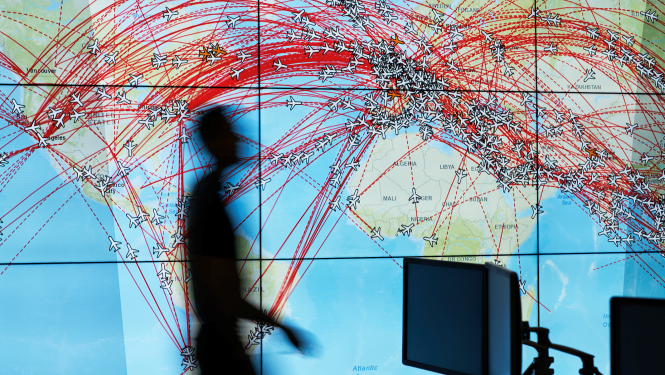 To this end, Rolls-Royce launched the Emer2gent alliance in April 2020. Founding members include IBM, Google Cloud and the Leeds Institute for Data Analytics. The members combine their knowledge and experience in data analysis and evaluation, IT systems and economic forecasting.
What is the future of the global economy?

The goal: To establish a publicly accessible platform that provides forecasts of global developments in the times of COVID – and not just a snapshot of the current situation. For this purpose, specially developed IT systems evaluate millions of data points from the areas of health and economy as well as from public reporting. A good 25 data sources are deployed for this purpose, including reports from Johns Hopkins University on coronavirus case numbers worldwide, statistics on capacity in emergency rooms and economic data from Oxford University or the OECD, but also data on global mobility of people, government measures such as travel restrictions and analyses of major daily newspapers.
Big-data technologies and AI systems merge the information and thus create forecasts about future developments. In which countries could a second wave be imminent? Are there signs that the tourism sector is recovering in certain countries? What impact can be expected on the real estate sector? Rolls-Royce contributes know-how from engine condition monitoring for the daily updated analysis and evaluation – called the data pipeline. This is because here too Rolls-Royce uses sophisticated algorithms and AI to identify potential problems at an early stage and thus is able to actively initiate countermeasures before customers are adversely affected.
Non-profit contribution against COVID

The results are displayed on so-called dashboards – currently available to alliance members, but in the future the data will be accessible to everyone free of charge. In this way, the partners want to contribute to overcoming the crisis. In addition to other industrial companies, the information could be of particular benefit to public administrations and business development agencies.
Currently, the partners are setting up the website www.emergentalliance.org, where information and forecasts can be retrieved. Members of the alliance can log in here, and interested parties can apply for participation. And the underlying systems might also be useful beyond COVID. Various scenarios could be developed for the course of negative events such as economic crises. The effects of disruptive economic and technological developments could also be calculated and predicted, an example being e-mobility.