Helicopter generation of the future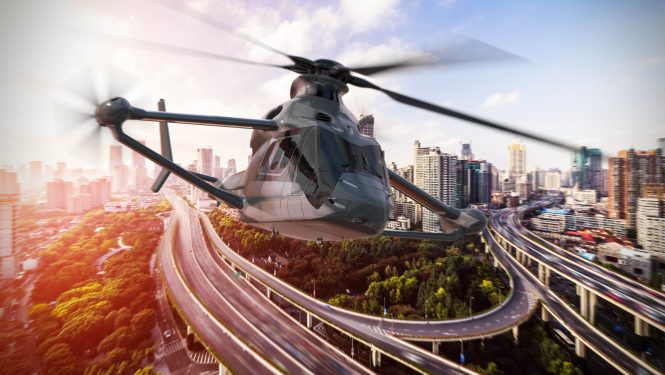 New design for new records
The new high-speed helicopter is meant to bring passengers to their destination 50 percent faster. The Racer achieves this speed record thanks to a new design. It has one main and two rear-facing side rotors mounted on so-called boxwings. The side rotors allow a fast increase and decrease of the airspeed. This makes the Racer much more agile and maneuverable than conventional helicopters and allow it to fly steeper trajectories. The main rotor rotates more slowly, thus reducing vibrations.
This design alone will allow the Racer to fly much more quietly. Above all, it is the shape of the rotor blades and the skillful combination of the various rotors that are supposed to make this possible. Furthermore, other than classic helicopters, the interaction of the wingbox and the main and side rotors also allow the Racer use trajectories that significantly reduce the noise perceived on the ground. Due to its steeper approach path, it is heard much later from the ground.
The Safran engine also ensures significantly lower fuel consumption. Compared to conventional helicopters, the Racer will fly around 100 km/h faster with 30 percent lower fuel consumption. Overall, the costs per passenger and kilometer are 20 percent lower compared to current models.
European research at its peak
A total of 37 partners in twelve European countries are involved in the project. The airframe is assembled at Airbus Helicopters in Donauwörth while the final assembly of all components and the flight tests take place in Marignane, France. The project partners include the German Aerospace Center (DLR) and its French counterpart ONERA. In Europe, several hundred people are working on the Racer project – more than 100 at Airbus Helicopters alone. The aircraft was developed under the umbrella of the European aviation research program Clean Sky 2 – which once again shows what groundbreaking developments European aviation is capable of.
A demonstrator of the Racer was presented at the Paris Air Show in June 2017. The first flight of the demonstrator is planned for 2020.