The future of jet engines transmissions has arrived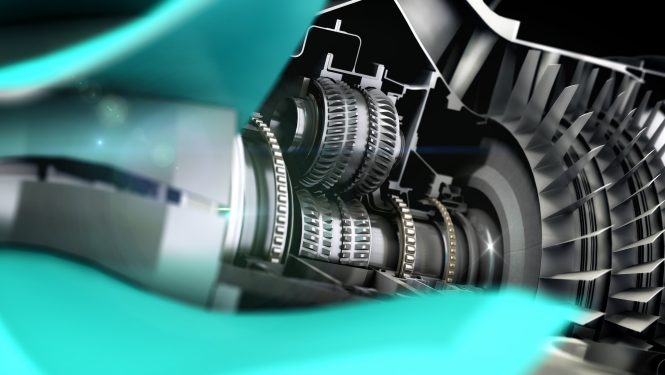 Prototypes of the transmission, almost one meter in size, have been put to the acid test there since May of 2017. Aside from the transmission of power, the tests focus on endurance and reliability. In addition, a special positional test bench is being used to test how the transmission behaves in typical flight situations: how does the load change after takeoff during a climb? Is the oil flow stable in all flight positions? And can the components withstand the enormous loads? Rolls-Royce plans to optimize the transmission for even more power soon. Future demonstrators are expected to achieve up to 100,000 hp – this roughly corresponds to the complete starting grid of a Formula 1 race with over 100 racing cars.
Completely new engine design
The high-performance transmission is a crucial part of a significantly optimized Rolls-Royce engine concept. Since 2014, the company has been working on the UltraFanTM, which is expected to be launched on the market in 2025. In terms of fuel efficiency, the new engine will surpass all previous engine generations. At least 25 percent less fuel consumption – and accordingly lower greenhouse gas emissions – that's the company's ambitious goal. The new transmission is one of the main reasons for the lower fuel consumption. In addition, the UltraFanTM will be significantly lighter thanks to titanium-reinforced carbon fiber fan blades and a composite housing. Furthermore, numerous components are made of new ceramic materials that can withstand higher temperatures, require less cooling and thus make the engine more efficient.
Technology from Brandenburg
The Rolls-Royce plant in Dahlewitz plays a key role in the development of the new engine. This is where the company's decisive development and testing know-how for the high-performance transmission is located. The Trent XWB, currently the most efficient commercial engine of its size, has been produced there since mid-2017 – a milestone which the UltraFanTM is set to exceed.