The first of its kind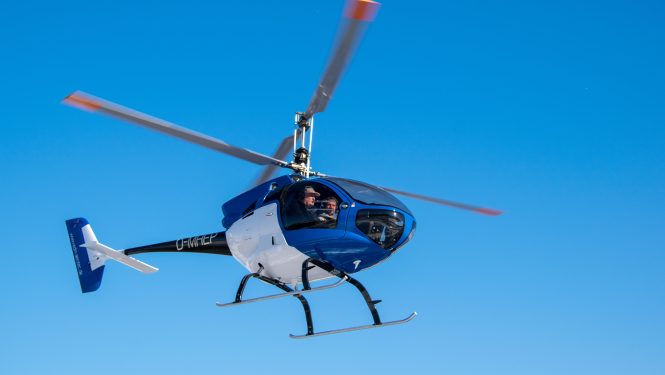 CoAX 2D is the somewhat bulky name of the new helicopter. It offers space for two people and weighs just 280 kilograms. This makes it one of the ultralight aircraft, not allowed to weigh more than 472 kilograms. So far, this category only includes motorized aircraft, gliders and gyrocopters, in which the rotors are driven exclusively by the airstream and which require a runway to take off.
Innovative design with decisive advantages
The newly developed helicopter from edm aerotec is establishing a completely new class of ultralight helicopters. It is the first ultralight helicopter certified in Germany whose rotors are powered by an engine and which can take off and land vertically. Its development and approval were driven forward by the company in close consultation with the German Federal Aviation Office (LBA) and the German Ultralight Aircraft Association (DULV).
The CoAX 2D looks different from the first glance: the main rotor consists of two rotor planes arranged one above the other, each consisting of two rotor blades rotating in opposite directions. This means there's no need for a tail rotor. This novel configuration has significant advantages. The absence of the tail rotor reduces noise by 80 percent. In addition, the entire engine power is devoted to the main rotor, which, compared to conventional helicopters, results in 30 percent more power for the main rotor and correspondingly greater lift. In addition, operation becomes easier for the pilot, as the tail rotor usually compensates for the torque of the main rotor, and the pilot has to control it additionally. This in turn saves time and money in pilot training. And the costs for maintenance and repair are also many times lower.
From Thuringia to the world
The application possibilities are manifold. The new helicopter is ideal for pilot training. In addition, it can be used for simple transport or in the agricultural sector for the distribution of pesticides, for example.
The new helicopter received German type certification in 2017. For its unique design, it was awarded the German Aviation Innovation Prize in 2018, among other prizes. And the first flight schools in Germany are now training pilots with the new helicopter. One model each was also delivered to China and Japan. Global sales are to be further boosted in 2019.