Drones evasion aid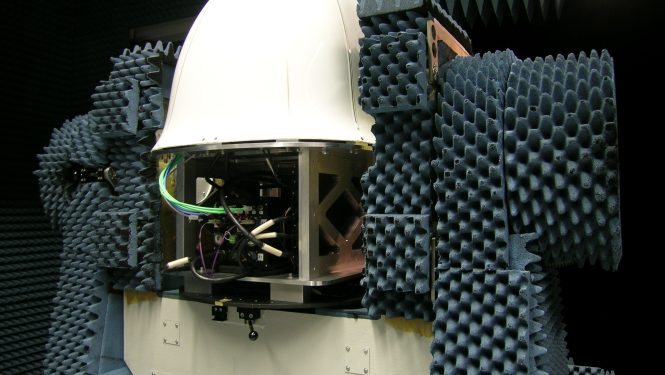 Large commercial aircraft are already equipped with anti-collision systems (Traffic Alert and Collision Avoidance System (TCAS)), which send their positions to other aircraft and warn them of possible collisions. These systems are based on the cooperative exchange of position information via a transponder.
For drones, these technologies are not sufficient for several reasons: Firstly, a pilot is needed to assess the situation and react if necessary. Secondly, these systems only recognize aircraft that are equipped with a transponder that responds to a TCAS signal – this is not the case for small flying objects such as gliders or small aircraft. Unmanned aircraft therefore require an additional safety system that enables them to participate in air traffic safely and without collision, even without a pilot.
Small and independent
HENSOLDT is currently developing such a system with the Detect-and-Avoid radar. With an installation depth of just over 10 centimeters, it fits into the "nose" of a drone. This sensor detects flying objects without transponders and enables automatic evasive maneuvers if there is a risk of collision, in lieu of a pilot's assessment of the situation and reaction. Within a range of up to 10 kilometers, the radar detects aircraft and tracks their movement. In addition, the system performs all the functions of weather radar and thus ensures that the drone does not fly in adverse weather.
Spill-over from military research
With this development, HENSOLDT is a European leader. The new radar technology is to be used for the first time in the Eurodrone, the first drone developed by European manufacturers, expected to be operational in about five years. In the long term, however, the technology will also be a milestone for civil applications – because it is a prerequisite, for example, for one day being able to fly city taxis or drones in urban areas. And the radar can also be used as a collision-prevention system for smaller aircraft, such as business jets, to support the pilot.
In November 2018, HENSOLDT successfully tested the radar during flight for the first time. The test flights took place in cooperation with the German Aerospace Center (DLR). Previously, the radar had already proven its capabilities in ground tests. The second test-flight campaign, for which improvements had been made to the entire system, took place in July 2019.