Digital and automated production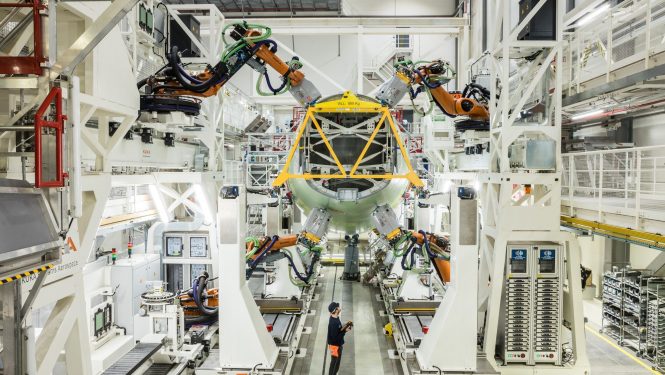 In a fuselage-structure assembly line, single fuselage shells are joined into sections and these sections are then assembled into aircraft fuselages. As part of the increase in production for the successful A320 Family, Airbus has expanded its manufacturing capacities in Hamburg and, among other things, has been operating the most modern hall to date for fuselage-structure assembly for about a year. In the next step, the aircraft parts are equipped with electrical and mechanical systems in the equipment assembly department before they are delivered to Germany, France, China or the USA for final assembly.
Robots on the assembly line
In the new hall, it is fuselage sections for the A321LR that are assembled. A total of 20 robots support the process – more than in other production lines so far. Eight of them drill and countersink up to 2,400 holes per longitudinal joint. A further 12 robots then support the assembly of the center and aft sections to form the fuselage. They drill and countersink holes for 3,000 rivets per orbital joint and insert them.
The use of robots reduces lead times and work volume, as the employees can perform other, ergonomically less strenuous tasks in parallel.
Innovative logistics and digitalization
The new assembly line also features optimized material logistics. The logistics level is completely separate from the manufacturing level. This enables a transfer of fuselage shells and sections without bottlenecks. Moreover, materials and parts are only delivered to the workplace when they are needed there. Autonomous guided transport systems are also used, which replenish parts without waiting times or congestion. Assembly can thus be carried out more quickly and efficiently.
The assembly line also uses digital technologies. For example, touch screens and tablets are available at all stations. They collect real-time data from the machines and show the work progress per aircraft and station at the push of a button.
Airbus already has secured more than 7,300 firm orders for the A320neo Family from over 110 customers worldwide. The aircraft are equipped with the latest technologies, including the engines and wing extensions, called sharklets, of the new generation. These can reduce fuel consumption and CO2 emissions by 15 percent.