A different kind of hybrid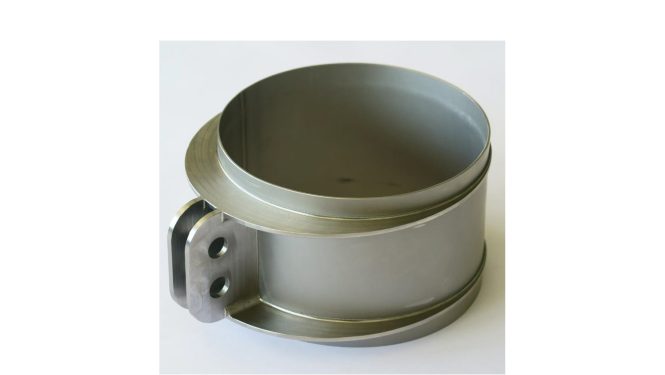 Expectations for 3D printing are high: some components can be manufactured faster and much more individually, while some of the processes allow for new geometric shapes and promise weight reductions. However: not every component in an aircraft is geometrically complex and benefits from the laborious and expensive additive manufacturing processes – just think of pipes, sheets or panels. These parts can be produced more efficiently and cost-effectively by conventional means.
The best of both worlds
PFW Aerospace wants to combine both worlds. In a current project, the company is investigating how complex functional components such as suspension elements can be directly attached to a simple product, for example a welded intermediate product, by means of laser deposition welding. In laser deposition welding, powder or wire is melted as a filler material through a nozzle using a laser. The goal is a process combination of cost-effective, conventional manufacturing technology and additive manufacturing that combines the advantages of both processes and leads to a high-quality and economical component. This makes it possible to do without all component-specific fixtures and tools that are necessary for welding, for example – a digital machine program is sufficient for additive production.
The hybrid manufacturing approach is particularly interesting for materials such as titanium alloys. Depending on the alloy, these are difficult or even impossible to form at room temperature and require more machining effort than aluminum, for example. This makes the processing complex and costly. Additive manufacturing processes offer an alternative here.
Research funding makes it possible
The project is funded until 2020 by the Aviation Research Program of the Federal Ministry for Economic Affairs and Energy. Depending on the research results, the first components produced with this process could be used as early as 2021.