Carbon fiber 4.0 for aircraft parts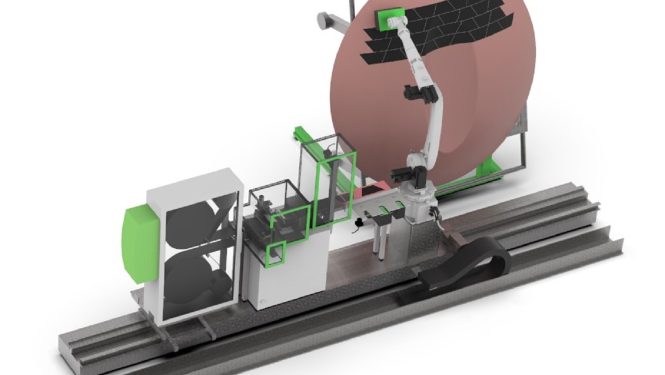 Even today, components with large surface areas such as carbon fiber wings and fuselage parts can be manufactured in series by robots. But automation has its limits, especially when parts with complex shapes are to be manufactured.
Carbon fiber behaves like fabric
The crux of the light carbon-fiber fabrics: they are a textile material – like fabric from which clothing is sewn. Imagine covering the surface of a sphere with a piece of fabric – a complex task that requires overlaps and cuts. However, this is precisely what must be achieved if, for example, aircraft windows, engine sections or bent tubes are to be made of carbon fiber.
Up to now, engineers have manually put the thin carbon-fiber layers in the correct arrangement and thus formed the components. This takes a long time, often several hours for each individual component. Profitable production in high quantities is not possible this way. This is aggravated by the fact that the increasing demand in air traffic makes higher production rates necessary – this can only be achieved with automated processes.
Robots build aircraft parts
Cevotec has now achieved the impossible. With its Fiber Patch Placement (FPP) technology, the start-up company has developed and launched a process on the market with which even small, complex components can be produced from carbon fiber using robots. Imagine it this way: The material made of carbon fiber is rolled up like packing tape. A robot cuts small pieces – so-called patches – from this tape. The size of the patches is adapted to the component size and its complexity. A robot arm then deposits the patches and forms components that an engineer has previously designed on a computer. The engineers can design the parts and calculate the optimal arrangement of the patches using a specially developed software. The software also programs the robot movements for the subsequent production process.
The advantages are considerable. Compared to manual production, the process saves up to 50 percent of carbon-fiber material. Thanks to extensive sensor technology and the associated process control, the necessary quality controls are also carried out during the manufacturing process – so complex follow-up controls are greatly reduced or eliminated. And the time for production is reduced many times over. Moreover, the process makes it possible to mix different materials and to work with adhesive films or copper wire, for example. Aircraft parts can thus often be manufactured in a single production step.
Development continues
The Cevotec team has been working on the new process since 2014. It was supported by the German government's EXIST program. The first industrial plant was introduced to the market in 2017. Cevotec is currently working closely with leading air carriers to develop new manufacturing processes and components that will be launched in just a few years.