Breakthrough achieved: Finally glide through the air with sharkskin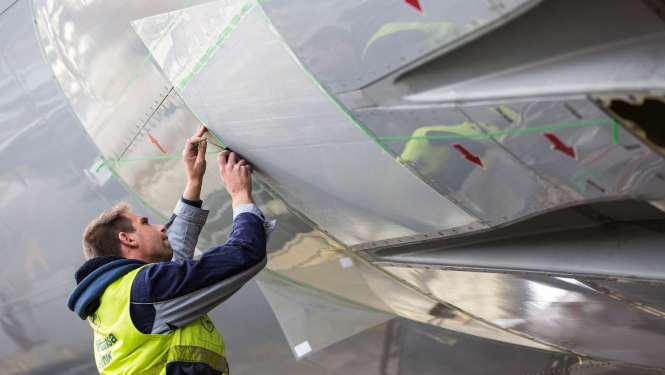 Finding solutions for extreme conditions
The fact that four decades had to pass before the breakthrough was achieved is due to the extreme conditions in air travel, among other things. AeroSHARK is a film that is bonded to the aircraft surface. Once in the air, it has to withstand temperature fluctuations of –60 °C to +40 °C (–76 °F to +104 °F) within less than 30 minutes and must not lose adhesion even at a speed of 900 km/h. Films of previous generations have not been able to withstand these challenging environmental conditions for long enough. AeroSHARK, on the other hand, has.
CO2 emissions descending
Lufthansa Cargo will be the first airline worldwide to deploy the technology on its entire cargo fleet of ten Boeing 777F, from early 2022. The effect is considerable: The sharkskin-inspired film reduces frictional resistance by more than one percent. Each year, this will save around 3,700 tons of kerosene and almost 11,700 tons of CO2 emissions for the cargo fleet – the equivalent of 48 individual cargo flights from Frankfurt to Shanghai.
And that is just the beginning. The expansion stage, scheduled for early 2022, calls for about 40 percent of each Boeing 777F to be coated with AeroSHARK. However, the company's declared goal is to obtain approval to coat additional surface areas and components on the aircraft in the coming months and years and also to equip further aircraft types with AeroSHARK. In the end, aircraft could fly dressed almost entirely in shark's clothing, reducing CO2 emissions by up to three percent!
Airlines from all over the world look to Hamburg
The demand is considerable, not least because existing fleets can be retrofitted with AeroSHARK without major effort. For example, Lufthansa Technik covered the lower half of the fuselage of a Boeing 747-400 with 500 square meters during regular maintenance at the end of 2019. To accommodate the installation, the aircraft did not have to spend a single extra day on the ground – and was the first commercial aircraft in the history of sharkskin research to receive a supplemental type certificate from EASA. It subsequently validated the project's savings potential beyond doubt in more than 1,500 flight hours. To be able to realistically estimate these savings, even taking common influencing factors such as weather conditions or flight routes into consideration, Lufthansa Technik has developed its own software solution to perform consumption analyses.
AeroSHARK was made possible due to a team effort. In BASF, the right partner was found to produce the film to the required quality for use in aviation. Over the past five years, some 200 employees from the Lufthansa Technik sites in Hamburg, Frankfurt, Sofia and Budapest have worked on the project. Time and again, results from BASF's laboratories have been validated in the live situation above the clouds when smaller film segments have been attached to commercial aircraft and tested over thousands of kilometers. This trial-and-error approach has required a lot of patience – and was crowned with success with AeroSHARK.