Bloodhound for drones
There are an estimated 400,000 privately used drones in Germany at this time. They are available on every free market and practically anyone can purchase them; it is difficult to rule out misuse. The possible threat scenarios are manifold: from provocations in public space to the spying out of secret and sensitive information to terrorist acts.
If major events are to be protected, authorities and organizations tasked with security (BOS) are faced with the question: how can flying objects, some of them only a few centimeters in size, be detected in a huge, sometimes unmanageable area before it's too late? And how can they be targeted and immediately rendered harmless in an emergency?
FINDING THE NEEDLE IN THE HAYSTACK
Answers to these questions come from Fürstenfeldbruck in Bavaria. ESG Elektroniksystem- und Logistik-GmbH has developed a modular drone defense system (GUARDION) together with partners from Germany and Europe. Within a radius of 1,000 meters, the system detects unmanned aerial vehicles and the associated controllers – a task similar to the famous search for a needle in a haystack.
Several mechanisms lead to success. First, the drone and remote control are communicating with each other. While the radio signals are not visible, they can still be detected by special sensors. This is how a drone can be clearly matched to a pilot. Second, a radar system detects all moving objects in the area and can automatically identify drones and distinguish them from birds, for example. No drone can move undetected. And third: microphones and cameras determine the movements of the drone even more precisely.
The responsible security forces receive a clear presentation of the collected information on a screen – and thus always know where drones and their pilots are located. In an emergency, they can initiate organizational security measures or, for example, cut the radio link between the flying object and the remote control – which makes the drone land automatically or fly back to its launch point.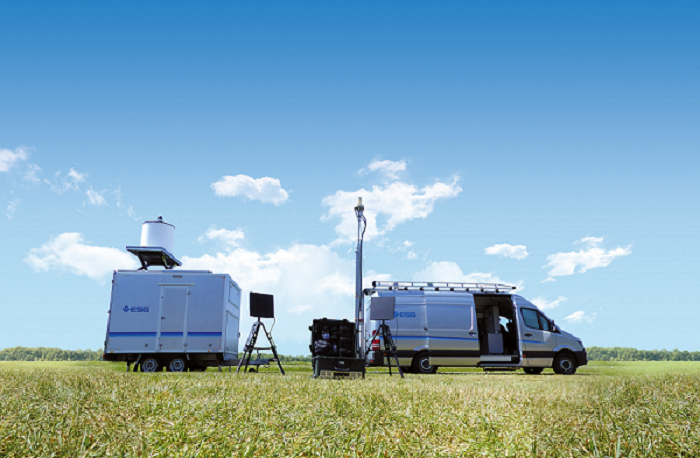 TECHNOLOGY THAT FITS IN A MINIBUS
"The requirements for the protection of major events are extremely complex," says Christian Jaeger of ESG. "Our modular drone defense system offers the necessary technologies and can be adapted to the specific needs of our customers." This allows the system to protect buildings and conference hotels just as efficiently and effectively as outdoor areas or entire stadiums. The effect is as big as the system is small: the technology fits into a minibus and can therefore be quickly moved to another location at short notice.
Christian Jaeger adds: "When the American president visits Germany or tens of thousands of soccer fans are celebrating in the fan zone, these major events are accompanied by complex security measures. Drone-defense is an integral part of this and must work reliably when interacting with other technologies. Our system ensures this and can be easily integrated into existing security concepts." Among other occasions, GUARDION, the modular drone defense system of ESG and its partners, was used by the Federal Criminal Police Office at the G7 summit in Elmau 2015, during the visit of US president Barack Obama at the Hanover Fair 2016 as well as at the G20 summit 2017 or the ILA Berlin 2018.