Autonomous all-rounder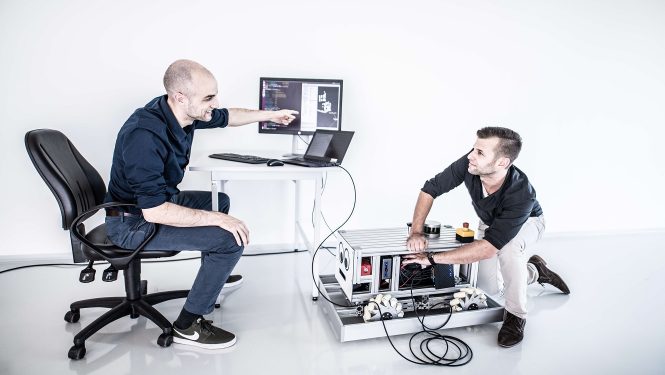 One meter wide, 50 centimeters high. Four wheels that allow navigation in all directions. A rectangular box reminiscent of a suitcase. This is what the aviation robot of the future, which the engineers at ZAL GmbH named ZALamander, looks like. Its unimpressive appearance must not obscure what the device will achieve one day. It is still primarily an experimental platform on the basis of which new functionalities are tested and feasibility studies carried out.
All in one
The new robot is a true all-rounder. It can transport materials to the workplace, monitor safety zones and identify risks, carry out quality checks in production or during maintenance, and, in the future, perform work itself using an additional robot arm. Aircraft manufacturers currently use their own individual robots for all these different steps – or carry them out manually. The robot developed by ZAL GmbH is suitable for all of these tasks.
ZALamander owes this versatility to the cooperation in a yet-unique team. Experts from the fields of construction and robotics participated in the development, as did experts on the subjects of artificial intelligence and 3D printing. This means that all areas are taken into consideration in tests and studies – an essential basis for developing the mobile all-rounder.
Practical test pending
A first use in practice is already being planned. Airbus would like to use the robot for safety purposes. The experts at ZAL GmbH are currently working with colleagues from the Airbus R&T department Assembly Innovation to develop a concept for the deployment of the security robot: Very heavy aircraft components are moved with cranes during production. In the future, the new robot is to travel underneath a crane during such transport and monitor the safety area there. If it detects people who are there in contravention of safety regulations, it sounds the alarm. The first tests for this and other applications are already taking place.
The robot can be seen at the ZAL Innovation Days (https://zal-innovationdays.aero/), which will be held on February 27 and 28 on the topic "Robotics & Advanced Automation." With ZALamander, the ZAL in Hamburg once again proves that it is a prime example of successful cooperation between state and private sponsors and develops groundbreaking aviation technologies throughout Europe.