Accessibility above the clouds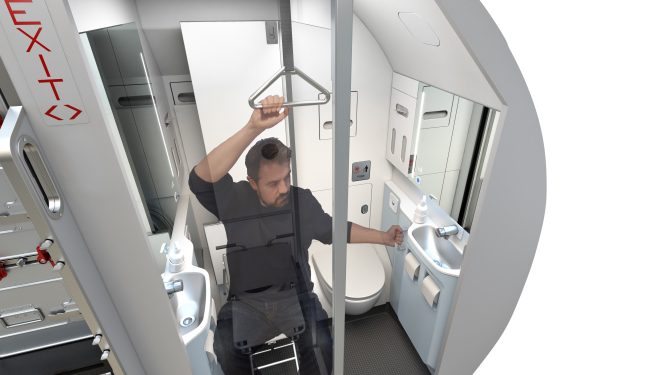 Skypax consists of two toilets and a galley. This arrangement is common and – adapted slightly – can be installed in aircraft such as the Airbus A320 family or Boeing 737. The innovation: The two WCs can be easily converted into a single large, accessible toilet.
Finally, a simple solution
The wall between the toilets is folded to the side in less than 30 seconds. The result is a large, appealing room. With the help of handles on the ceiling and walls, passengers can lift themselves independently from their wheelchair to the second, remaining toilet. If the passenger needs assistance undressing, there is even enough room for a helper.
Previous solutions were much more awkward and uncomfortable. Either the conversion took a long time due to complicated technical solutions or the passenger had to use a kind of compromise toilet, which was much narrower than normal airplane toilets and therefore difficult to use. In addition, the room was so narrow that there was no space for a second person to help.
The environment also benefits
Skypax changes this and enables effortless travel even for people with reduced mobility. The different arrangement in the aircraft also saves space, allowing up to 12 additional seats and passengers to be accommodated. What's more, the new system is around 60 to 100 kilograms lighter than previous models. The effect on the environment is considerable. Skypax can save up to 480 kilograms of fuel per flight. Projected over one year, this will save around 1,500 tons of CO2 – that's as much CO2 as 168 passengers leave behind as a CO2 footprint each year.
At this time, Skypax is certified and approved. The first 100 orders will soon be delivered – and will then contribute to making aviation more accessible and climate-friendly.
With this innovative solution Diehl Aviation was 2019 winner at Innovationspreis der Deutschen Luftfahrt in the category "emission reduction".